Lines are lines, right? Well, here at MAP we don't think so and that's why we're introducing a new rig line this summer.
Power Optex is the latest line from the MAP stable, a co-polyamide that is designed to be perfectly suited to the rigors of UK match fishing. We've worked closely with a leading line manufacturer to produce something that's not only tough, but performs to the highest levels in terms of flexibility and suppleness, key attributes that we feel are important when looking at a line for pole rigs and hooklengths.
Aside from great UV protection - to protect it from damaging UV light that can weaken and ultimately damage line - the main brief for Power Optex was to create a strong line that has an accurate diameter. Why the focus on accuracy? Well, there have been many lines released over the years that have claimed to be super-strong fro their diameters but in reality they've been overstated, meaning you're getting strength but with a compromise of a diameter that's untrue. The actual diameter of a line greatly affects it characteristics and when you use a line that's too thick, the suppleness is affected, something that's key for good presentation.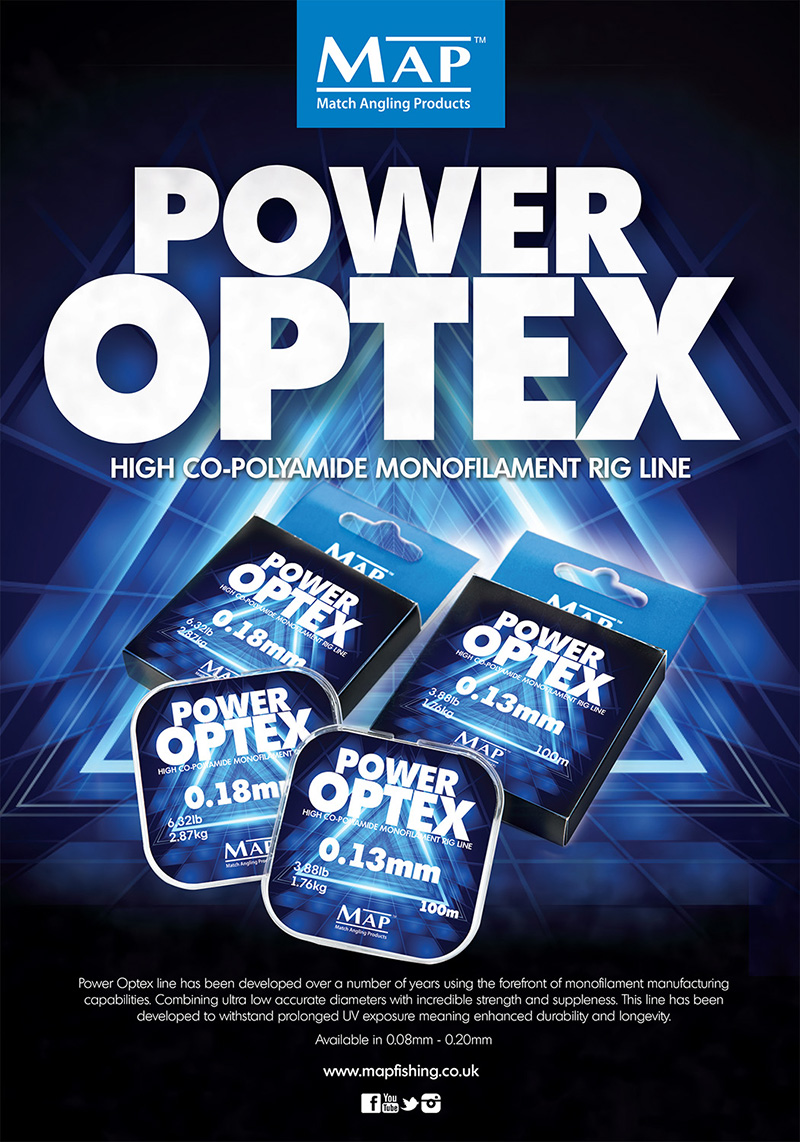 With Power Optex it's a different story we've ensured that our diameters are as close to their stated diameter as possible*, meaning you're getting the breaking strain you see on the label AND the correct diameter, meaning you know exactly what you're getting for your money.
But that's enough of the techy stuff... the range comprises diameters between 0.08mm and 0.20mm so there's lines to suit every application, from delicate roach fishing on rivers right through to hauling massive super-size carp! It's clear in colour so will suit any water conditions and on 100-metre spools for just £4.99, you'll get a mass of pole rigs and hooklengths from every spool. Our team of anglers, including Andy May and James Dent, has been testing Power Optex in a variety of match situations and their success rates pay testament to the reliability of this awesome line.
You'll have seen the adverts we've been running in magazines like Match Fishing magazines and when it's released at the end of July, make sure you're first in line at your local retailer to try what we believe will quickly become regarded as the finest rig line on the market.
(*within production tolerances)