ROD CHOICE
I've recently been getting lots of messages about the various feeder rods in the MAP Fishing range and it's great to see such an interest in them - and rightly so! I have been lucky enough to use this range for a number of years now and cannot be more impressed with their performance over a long period of time, with new additions coming into the range regularly there really is something for every occasion. To help anyone who is in the market for some new rods or interested in what I use in my own fishing I've included some of the models I have a personal preference for below.
Commercial Fisheries
Parabolix Black Edition 10ft Feeder - For me this rod is a true do everything piece of kit, whether you're chucking a method tight to an island for big weights of carp or fishing on a mixed venue where some F1's and Skimmers may be mixed in with larger fish this is the rod I will always go for. More forgiving than its SUV counterpart which is more at home fishing a bomb or short range method on venues like Boddington where the average stamp is double figures, the 10ft Feeder is a very versatile rod with many uses.
DUAL 9ft Bomb - A lot of the commercial venues I have fished locally over the last few years have some very short chucks - anything from 13m to 17m and this rod is just made for it! Snake Lakes or small venues on windy days this rod is always in my bag, perfect for any bomb or method work that is often required on that type of venue with a soft action that enables you to catch F1's and Carp alike with the same set up.
Distance Work - There's two rods I use for my distance fishing on a commercial type venue.
The first is the Parabolix Black Edition 12ft SUV Feeder, this rod is perfect for fishing at range with method or hybrid feeders. With the SUV versions of the rods they come supplied with larger guides on the tips, perfect for shock leaders which are commonly used when you're looking to lump it a long way!
The other rod I opt for is probably one of my favorites in the entire range - the DUAL 12' 9" Distance Feeder, perfect for the biggest of chucks you're likely to need to achieve or when you're faced with some particularly rotten weather and need to give it that bit more to reach your desired distance, this rod also includes tips up to 3oz keeping in with the requirements you often look for in a rod of this style such as using heavier feeders or fishing on larger venues which suffer with tow.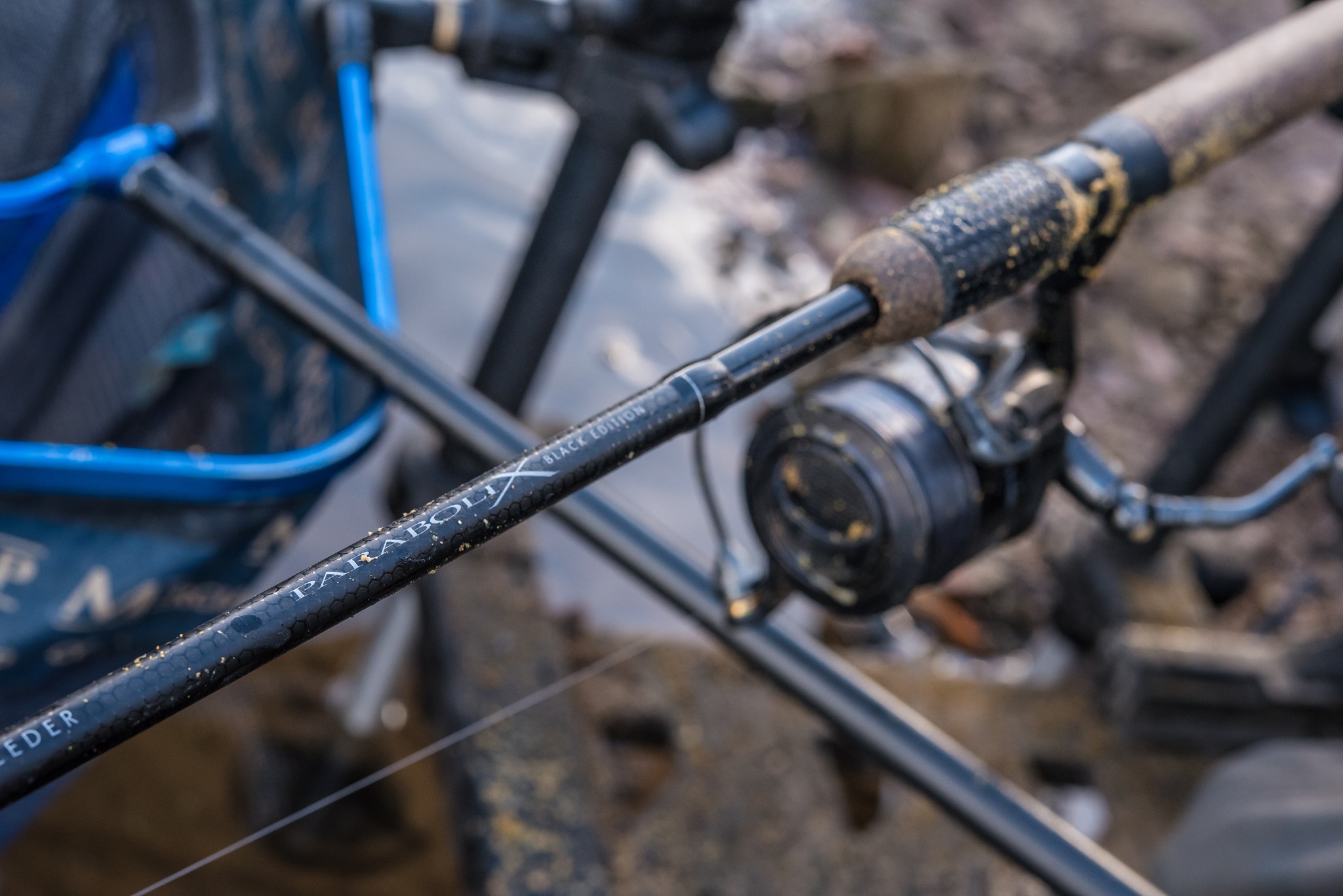 Natural Venues
Parabolix Black Edition 11ft Feeder - There has been plenty written about this rod before and if any rod out there has the makings of a classic then this really is it! It's by far the best rod I have used for catching silver fish at shorter ranges, stunningly soft for catching Skimmers, Bream and Roach on venues like Porth or up to 40m on other venues, it's my first and only choice!
Parabolix Black Edition 12ft Feeder - When you're looking to chuck that bit further but still retain that beautiful action of the 11ft the 12ft version is my preference, with a natural progression in action and power for the requirements you need from a 12ft rod to achieve bigger distances this one is a brilliant option when targeting bigger Bream and Skimmers.
For distance work - the DUAL 12' 9" would again be my choice, with the rod having the perfect blend of power and a forgiving fish playing action catching quality silver fish at distance has never been an issue for me with this rod.
River Fishing
Parabolix Black Edition 12ft SUV Feeder - This is my go to rod for most of my fishing on the River Thames in normal conditions, capable of casting good sized feeders a long way, and with 1.5, 2 and 2.5oz tips included it is at home in most conditions found on the river throughout the season. With a fantastic fish playing action which ensures smaller fish like Roach and Perch can be landed as well as bigger Bream.
Once again the DUAL 12' 9" Distance Feeder makes an appearance in this list and is perfect when the river is carrying a little more water, the extra length is perfect for keeping more line off the water and with a 3oz tip available is suited to heavier flows and feeders up to 70g.
The final rod is a bit of a beast and that's the Parabolix Black Edition 12' 9" Distance Feeder, this is an out and out power tool which is supplied with 3, 4 and 5oz tips making it perfect for catching big fish like Barbel and Bream in heavy flows where big feeders are needed to hold bottom, not a rod I use very often, but one that is well worth having to get you out of trouble when you find yourself in a demanding situation.
Something to remember about the Black Edition range in particular. as the flagship models, the rods were designed to be pretty specific to what they are intended for, as an example a lot of 10ft rods out there are branded 'bomb' rods, where MAP wanted to be different was to bring designated bomb and feeder rods into the range so you can be assured that what you are buying is a genuine bomb rod and a genuine feeder rod with the attributes in terms of action and power to each changed accordingly for those styles.
I hope that helps a few of you who are looking at the range in choosing the correct rod for the venue's you fish.