Every year White Acres plays host to arguably the toughest festival in the UK, with over 150 of the countries top match anglers competing for the title and also an all important top 24 finish to book a place in the £25,000 Parkdean Masters Final on the Saturday. The anglers are broken down into sections of nine anglers and are competing for all important points through the week.
Fishing across some of Cornwall's finest venues on everything from carp filled bagging venues through to Porth where a weight of roach or bream is the target, you need to be the master of many methods to succeed on a festival like this!
Previous Parkdean Champion and the latest MAP recruit Andy Geldart proved his class by scoring a perfect 36 points which was enough for him to secure the overall win and a cheque for £3,000! Hot on his heels though were two more MAP lads, Tony Curd and Jason Collins, both of whom had 35 points (after dropper) and after five days fishing just 24lb separated their weights showing just how close the festival can be. It ended up with Tony Curd just sneaking into second and Jason Collins completing the all MAP podium.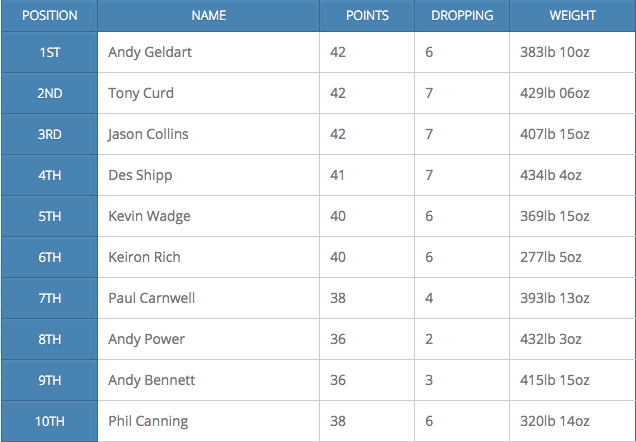 An awesome performance by them all and it also secured them a place in the prestigious £25,000 Parkdean Masters Final. Unfortunately for them the draw wasn't kind to them all drawing in the low numbers, the fish seemed to be up at the other end and Kevin Wadge ultimately did the damage fishing an ultra positive paste match to get his hands on the prize.
We can't wait to do it all again next year...